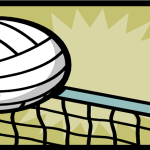 A while back I shared something called the Second Chance Game. The basic idea is that a player who makes an error is immediately given an opportunity to correct their mistake. For example, a hitter spikes a ball into the net. The coach immediately makes them hit another ball, and potentially another, and another until they have a good swing. It is worth noting that doing this sort of error correction need not be confined to one certain type of game. It can happen at any time, in any game or drill.
During my time with the professional teams in Germany, I saw many examples of the coaches using this kind of second chance approach. They did it in passing drills. They did it in defense drills. They did it when working on movement. They did it for setting. The point was to not accept the bad repetition – especially if it was driven by poor technique, bad decision-making, etc. – and reinforce the desired execution.
In fact, second chance is often best used in drills because it's easier to have a do-over in those situations than in game-play. Second chance when having your team play tends to create a continuous play situation. This can be useful at times, but if you're looking to have something with a more discrete stop-start process (like with rallies begun by a serve), then second chance from an individual player perspective is probably not the best choice. You could, however, do it from a broader team perspective by repeating the play from the start or from some key juncture.
6 Steps to Better Practices - Free Guide
Join my mailing list today and get this free guide to making your practices the best, along with loads more coaching tips and information.