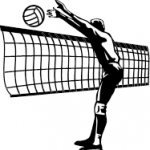 What I am about to share is the way I learned how to teach blockers in terms of visual ques. I can't remember specifically who taught it to me. It might have been John Kessel at USA Volleyball. Regardless, it's stuck with me over the years. No doubt that's because it makes intuitive sense to me. I have seen others present things in different ways, some of with which I definitely disagree. I'll offer my own opinion on things here, but am happy to engage in a discussion on the subject.
The visual cue progression I teach is ball-setter-ball-hitter. I'll explain each in turn below.
Ball – This is the pass coming from the receiver or digger. It will define the attack options available to the setter. On a good pass you don't get a lot of information as all primary options will remain available (unless a hitter is out of position). If the pass is less than good, though, the blocker can start narrowing things down.
Setter – How the setter positions themselves to receive the ball and/or makes contact with the ball can tell a blocker a great deal. Even on a perfect pass, some setters tip which way they're going with the ball. On a pass requiring them to move, their ball-receiving position may dictate which direction the ball will come out (for example,a setter back pedaling will find it easier to set to the right side attacker or the back row than to the OH).
Ball – Once the setter has released the ball you learn its direction and likely attack point.
Hitter – The approach angle of the hitter determines block placement as it dictates the most likely line of attack. The approach timing and distance from the net then determine when the blocker should jump.
It's that last step which gets blockers in trouble in two ways. One is that if they are watching the ball it tends to negatively impact their mechanics (eyes looking up rather than forward results in arms coming away from the net). The other is in the placement of the block. For example, a hitter with an outside-in approach (standard OH) presents a much different positioning situation than does an inside-out approach (OPP running a 2-ball on a combination play). Drilling down even more specifically, where the hitter's shoulder is relative to the ball will weigh heavily on the direction of their attack.
Oh, then there's the situation where the hitter doesn't even jump. Blockers not paying attention to their hitter may find themselves up in the air for no good reason.
Again, this is just my approach to things. Other views are welcome.
See also looking at serving and blocking together.
6 Steps to Better Practices - Free Guide
Join my mailing list today and get this free guide to making your practices the best, along with loads more coaching tips and information.