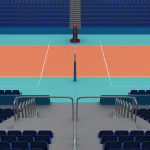 A while back via Facebook and Twitter I shared a link to a brief article from Coaching Volleyball magazine. That's published by the American Volleyball Coaches Association (AVCA). Actually, it was less an article and more a letter to the membership from AVCA Executive Director Kathy DeBoer. In it she shares her thoughts on the potential future of NCAA volleyball. In particular, Kathy is concerned about the move toward a college structure where five conferences stand apart from everyone else in terms of money and resources. I won't go into the back story behind all this. I'll just say it's mainly driven by football and men's basketball, but has the potential to influence all sports.
My general feeling on these sorts of things is change is inevitable. We simply have to adapt to the new conditions. NCAA women's volleyball has the advantage of being in quite a strong situation at the moment. Even men's volleyball is making some gains. Volleyball at the high school level is the top girls' sport in most states, with participation on the rise. As a result, I don't think there's a big risk of changes at the top of the collegiate hierarchy putting the sport in jeopardy. In fact, the reality of the current state of affairs is we already have a major divide.
The split is already there
As of this writing, the last time a school from outside the so-called Power 5 conferences (Pac-12, Big-10, Big-12, ACC, SEC) won the national championship was 1998. That's when Long Beach did it. In fact, since then only once has a team from outside the Pac-12 and Big-10 won. That's Texas. Taking it a step further, Long Beach in 2001 is the only lesser conference school to have even made the finals in that time. A couple of others have managed to reach the Final 4, though – (Hawai'i, Pacific, Santa Clara).
To put a finer point on it, among the Power 5, representation from three conferences at even the Final 4 stage has been scant. Since 1998 the SEC has only had three entries (Florida x 2, Tennessee), and the ACC just one (Florida State). Nebraska and Texas have done fairly well for the Big-12, but the Huskers are now in the Big-10, leaving the Longhorns as the only current Big-12 team ever to have made the Final 4.
In other words, we have a fairly narrow collection of teams contending for the national championship in any given year. That leaves a whole lot of teams playing for much smaller stakes. For the vast majority of the 320 or so Division I teams, a conference title is about as high as they are likely to ever reach. There isn't anything inherently wrong with that. The same is true in other sports. Actually, we could say we currently have a better situation these days. Back in the 80s and 90s only a relatively small group of West Coast teams dominated.
Is college volleyball already professional?
What struck me reading Kathy's thoughts, though, was that the top level of the sport is moving toward what we can view as a defacto professional league. We may really already be there! We can make a case that giving individuals scholarships to play volleyball is essentially a professional situation. Schools compensate student-athletes in some fashion because they are athletes. This is particularly so given the price tag of modern education. Paying players above and beyond that, though, would put things into a different category. That is especially true when considering the other perks players at the top schools get in terms of support.
There are many similarities between NCAA collegiate volleyball and the experience of pro players at clubs in Europe and elsewhere. I wrote about it after spending time with a pair of clubs in Germany, That is only furthered if the top conferences continue to channel more resources into their programs.
Note: Business Insider posted a list of the top 20 university sports programs. It is based on athletics revenue, NCAA championship results, home football and men's basketball attendance, and student survey responses. Interestingly, only two of those 20 schools has ever won a volleyball championship. Just seven have reached the Final 4.
6 Steps to Better Practices - Free Guide
Join my mailing list today and get this free guide to making your practices the best, along with loads more coaching tips and information.