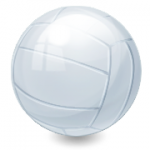 A while back, Oliver from @volleyblogger asked me a question about club volleyball. I gave him a response of my own. I told him I would also post it here to the blog to see if I could get the thoughts, experience, and opinions of others. Here's Oliver's question:
Here in Germany [club volleyball] is financed by a monthly fee by the members which is normally between 10 and 20 Euro/month. Which means that a normal club can not pay it's coaches adequately. Do you know how English and American clubs finance themselves and if they do by monthly fees asked from the kids/their parents how much it is?
England
In England the situation seemed quite similar to the one described for Germany. Volleyball is largely a participation sport rather than something with an aspirational aspect to it. By that I mean people play it to play it. It's not to try to earn a scholarship or with the thought of one day playing pro. That's not to suggest no players have those higher level motivations. There are certainly those in the national system and at the various academies who definitely have higher aspirations. It's just that volleyball is very much a developmental sport in England. There is no real pro league and university scholarships are limited in number, though on the rise (see Volleyball England influencing university volleyball).
The point is that there isn't a great motive to "invest" in juniors volleyball from the perspective of families looking at there being some kind of financial pay-off down the road (scholarship, pro contract). That tends to limit how much they will pay in club fees and related expenses (travel, etc.). At the same time, the lack of professional clubs means little in the way of money coming down from the top to work on developing players. Clubs can and do get grant funding. Volleyball England has its own programs aimed both at participation and youth national team development. It's not like there's a ton of money flowing through the system, though.
I honestly don't know the fee structure for clubs in England. Many of them operate as combined youth/adult operations (with mixed teams). I only worked in that system at the adult level, and only briefly. I think they paid about £250 for a season – September to April. That basically covered facilities and admin expenses (travel was extra). As you can imagine, that doesn't provide much in the way of funds to pay coaches (I was a volunteer). Hopefully someone better informed will contribute to the conversation.
U.S. structure and fees
It's a bit different in the States. While there isn't the professional aspect, there is a strong university system. That level features lots of scholarship money, improved financial aid packages, and admissions considerations (for more information about US college volleyball see Inside College Volleyball). This gives players and families something to aspire to and a reason to spend money on junior volleyball. At the top level of club volleyball where teams are competing for championships and players are scouted by Division I college teams the annual fees are in the $1000s.
Granted, many kids who play high school volleyball won't go beyond that. For them the "investment" incentives are low. As a result, there are plenty of clubs operating at a low cost and commitment. When I was involved in junior volleyball in the Northeast there were teams for which the kids paid as low as $250 for the season (January to early May). They trained once a week and played in five day-long tournaments. There were also teams where the cost was around $1000. They incorporated 2-day inter-regional events into their schedule and might get a second day of training each week (December to late May or maybe early July). Generally, that fee was inclusive of hotel costs, and potentially travel as well, depending on the method used. These days there are club teams with costs $5000+.
U.S. club coach pay
The result of this is that funds available to pay coaches can vary considerably. When I coached in the Northeast, the pay structure seemed to be that the coach got roughly the equivalent of one player's annual fee. In running my own club I introduced an hourly pay scheme. We did that to ensure a minimum level of pay. Coaches got a higher hourly rate based on experience and accreditation level.
After emailing with Oliver I reached out to a friend of mine who used to coach in Northern California. The status of volleyball there is much higher than it is in the Northeast. That is reflected in how much club coaches can make. He told me a base rate was $800/mo when he coached, and coaches on the top level teams could make $2000/mo. This obviously implies higher player fees. There may be other sources of funding to clubs, such as sponsorships or camps/clinic earnings. My understanding is that the lion's share of revenue for most clubs is player tuition, though.
Incentivizing "investment"
After I shared my observations with him, Oliver responded with the following:
In other words: Club volleyball can only succeed on the financial side if it has some extra funding/sponsoring or can serve some special needs beyond the pure sport itself. A university scholarship is one example. I will sit down and collect other possible reasons (applicable at least in Germany) why club volleyball could be worth an extra investment.
I'm not sure what he meant by "succeed on the financial side." I don't know if that means bringing in enough to cover expenses or whether profit is the objective. In the US a lot of clubs operate as not-for-profits. No doubt, there are a number which actually are intended to make money for their owners. I think the not-for-profit model is one that can be fairly easy sustainable. That's even where the "investment" incentive among players/families is low. Developing something that produces a meaningful income in that context is a significantly larger challenge.
What will they pay for?
Let me put aside the idea of sponsorship revenue or some other kind of external income for now. It's better left to a separate discussion. Instead, I will focus on what would motivate players and their families to pay higher club tuition. What it comes down to is the potential pay-off. Both professional contracts and university scholarships fall into that category. The former is likely the higher prospect for those outside the US. The professional game has developed and university athletics are not particularly strong. The reverse is the case in the US where there's no indoor professional volleyball of consequence, but the university system is very strong. That said, there are a number of foreign players on scholarship at US universities. So for the right type of individual it's something that a club could put forth as an aspirational objective for it's players.
Of course there are always those players and families who aren't necessarily thinking in terms of investment in the future. They simply want the best experience. That could mean training under the best coaches, playing with the best players, competing in high profile events, winning championships, etc. These things need to be considered as well when pondering the marketing for a club.
Even if you have the perfect sales pitch, though, two major factors will likely determine a club's success and sustainability. One is population density. It's much easier to attract a good collection of players if you're trying to do so where there are lots of people. It's a lot harder having to try to bring them together across a large geographic region. If nothing else, the added cost of travel for the families is a factor. The other is the income level of the community. It's a lot easier to get higher tuition from a wealthy community.
6 Steps to Better Practices - Free Guide
Join my mailing list today and get this free guide to making your practices the best, along with loads more coaching tips and information.