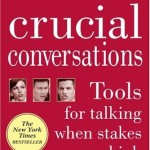 I did the last of my planned collegiate program training visits on Wednesday, this time at UCLA. Interestingly, when I got to the gym ahead of their training session I found them doing a review/discussion of the book Crucial Conversations. Assistant coach Stein Metzger told me it was something they were looking to use to improve on the communication front as that was seen to be a problem with the team last year. I haven't read the book before myself, but it's a best seller so clearly quite a few others have done. Might just give it a look to see what's what.
I've got just about a week left in the States. While I don't have any plans on visiting any more schools and their practices, I may yet get a bit more volleyball in before I head back for England. The University of Wisconsin will be playing at Pepperdine on Saturday evening. Pepperdine is supposed to be a beautiful campus (located in Malibu), so I'd like to go just to have a look. I happen to also know the Wisconsin coach from my days at Brown when he was coaching at Albany and they came to one of our tournaments. He's definitely moved up in the world since!
I may also make a trip to the famous Manhattan Beach. I've been told there's a fantastic little Mexican food joint there. Oh, and it's known for some pretty good beach volleyball action too. 🙂
I think once I have some time to let everything settle and can reflect I'll write a post looking back on my 5 campus visits and the different things I observed. Look for that when I get back.
6 Steps to Better Practices - Free Guide
Join my mailing list today and get this free guide to making your practices the best, along with loads more coaching tips and information.