August is winding down. That means my nearly 3 weeks in Hungary is also coming toward its conclusion. It's been a good experience hanging out at Fino Kaposvar with my friend Ruben Wolochin, the head coach, and everyone else with the team.
One of the people I've had a chance to spend time with is the former coach here (now the sport director), György Demeter. He's a legend in Hungarian volleyball, with many championships to his name. Here's me giving him a copy of the 2nd Volleyball Coaching Wizards book.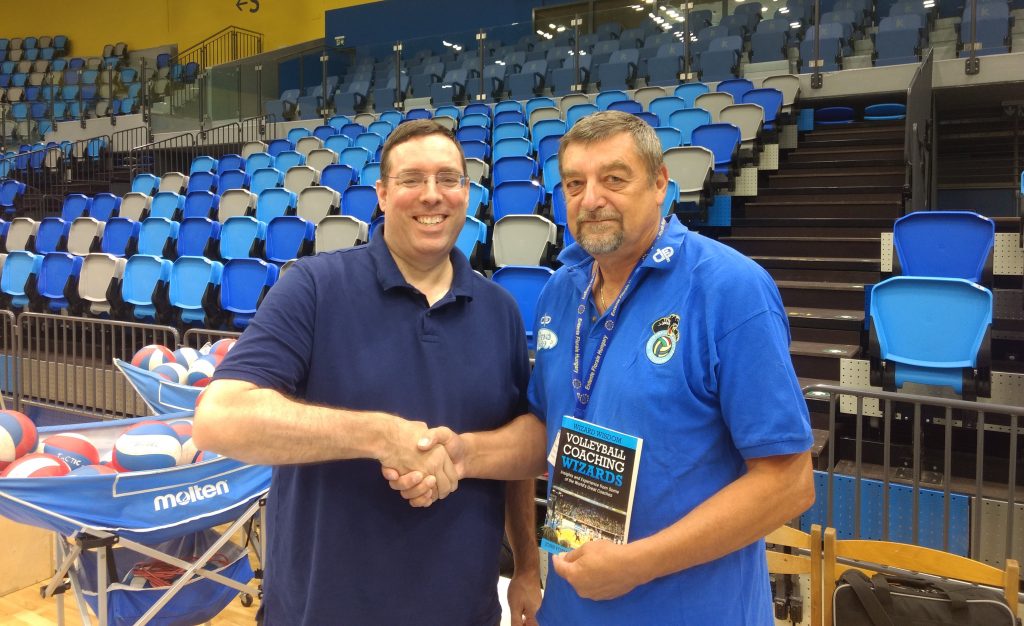 And here's a picture of just a few of the trophies the club has won over the years. There's a whole other shelf in the volleyball office full of them.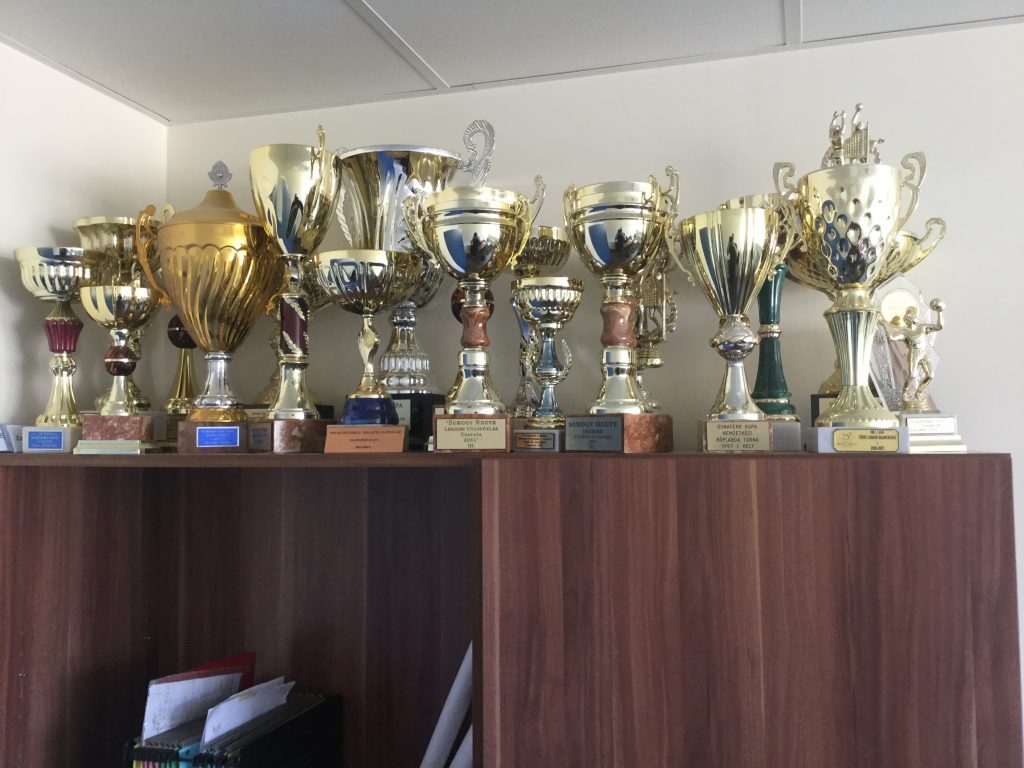 I even got to see some of what the Kaposvar women's team is doing (different club, same facility).
But, things are about to get a lot more intense now!
On Friday I return to England to attend youth/junior national team training over the weekend.
On Sunday I fly to Venice, from where I will connect on to Conegliano to see what they're doing on the youth development side, and possibly with the pro team.
Next Friday it's back to England for the Volleyball England Coaching Conference on Saturday. I'll be presenting a 3-hour workshop on developing the middle offense.
After that, it's back to the continent – specifically to Spain. I'll spend several days in Madrid, visiting with the Spanish men's national team and the Alcobendas club, which is one of the stronger juniors clubs for girls. Then, I'll go to Barcelona for a few days to visit CV Barcelona (which is affiliated with FC Barcelona), and possibly see the regional youth training center there.
From Barcelona it's off to Switzerland. There I'll visit with the Näfels club, which is one of the best established in the country, and also with Volleya Obwalden, which has some big ambitions.
I still have some plans to make for the rest of September before I return to the States. I am looking to fit in visits to a couple of places in Germany, plus one in Holland, before the trip is over. I'd like to squeeze in some time for a couple visits in England as well, but we'll see.
Unfortunately, my plan to go to Poland just isn't going to fit anymore. That was going to be a professionally-focused trip that's been bumped by a couple of previously unplanned youth-focused ones. As the latter is the bigger driver of this whole trip, I had to prioritize them.
Lots and lots of content!
I said beforehand that my target was to develop one piece of content for each day on this trip. Well, I'm going to blow way past that. In fact, by the time you read this I may have already hit 60 pieces – and that's with more than a month left!
Here's just part of what I've posted.
A dozen practice plans
17 drills and 12 games (though those definitions could crossover)
A 4-week weightlifting plan
6 mobility/prehab and/or warmup routines
Plus some of my own thoughts and observations of what I've seen.
I could be over 100 pieces of content by the time it's all said and done, which is kind of crazy.
If you don't have access to it all, you should definitely get it now!